The 'Kimchi Queen' — Entrepreneur Blends Flavors of South Korea and the Deep South
ATLANTA, GA — When Hannah Chung was growing up, she was not fond of the Korean dishes that her mother cooked. The pungent odors, Chung recalls, would linger for days and she was embarrassed to invite her friends over to their place.
In school, Chung says, she became the butt of jokes because her lunchbox always had kimchi — a Korean staple made of fermented cabbage steeped in chili and spices. She wished she could have American food like the other kids around her. 
Fast forward nearly three decades and Chung, 35, is now a successful and highly acclaimed culinary entrepreneur who is on a mission to introduce the very food she once abhorred to the American south.
"It's a bridge for people to embrace and understand Korean culture," she said. "Somehow it feels like missionary work."
Over the last six years, Chung has grown her kimchi business from its modest start in stalls at local farmers markets to retailing at over 40 stores across the South, from Georgia, Alabama and Tennessee to North Carolina and South Carolina. 
"I have my own production facility," she says, "but I think my business [operation] is still very small."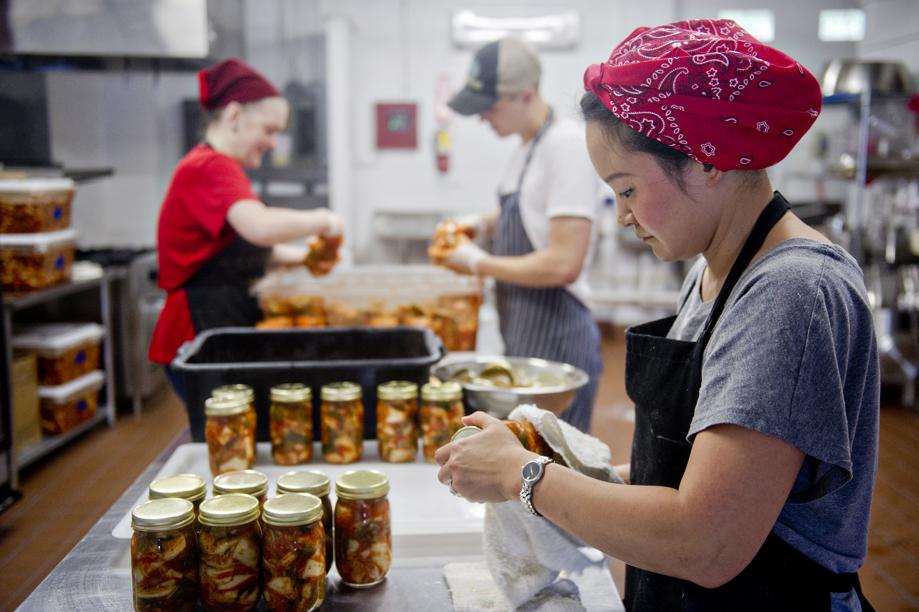 Reigning 'Kimchi Queen'

Chung founded Simply Seoul Kitchen in 2009. She began by setting up food stands in farmers markets, selling kimchi-infused dishes like kimchi pancakes, kimchi slaw and kimchi fried rice. Since then her business has grown exponentially, pushing the culinary boundaries in a region not typically known for its Asian cuisine.
Last year, Simply Seoul celebrated its expansion into Ponce City Market, in Atlanta. 
In 2014, Atlanta Magazine named Chung the unofficial Kimchi Queen. "I was crowned — and so it's official and I'm owning it," she says, laughing. "The title 'Kimchi Queen' is actually on my business card."
Chung says that making kimchi is a labor of love, requiring time, patience and a lot of work. She begins the process by grinding and mixing the ingredients, which include copious amounts of garlic, chili, ginger and other spices. She then ferments the mixed and seasoned vegetables for two days and packs them in jars. All her kimchi is vegetarian.
But the work does not end there. The second-stage fermentation lasts for another couple of weeks, she adds, before her kimchi becomes ready for distribution.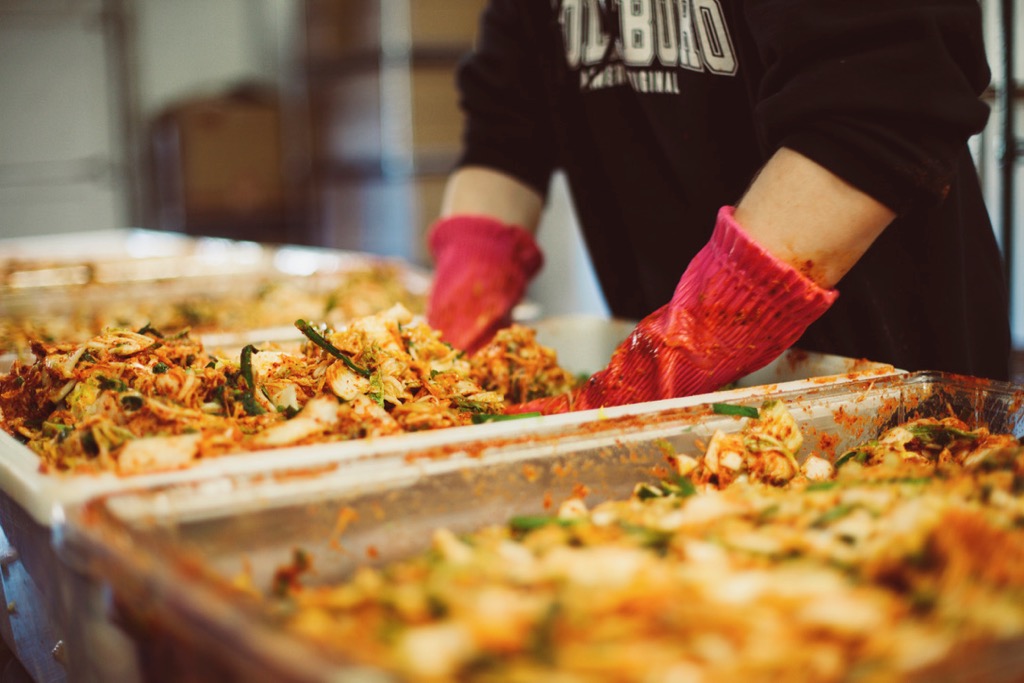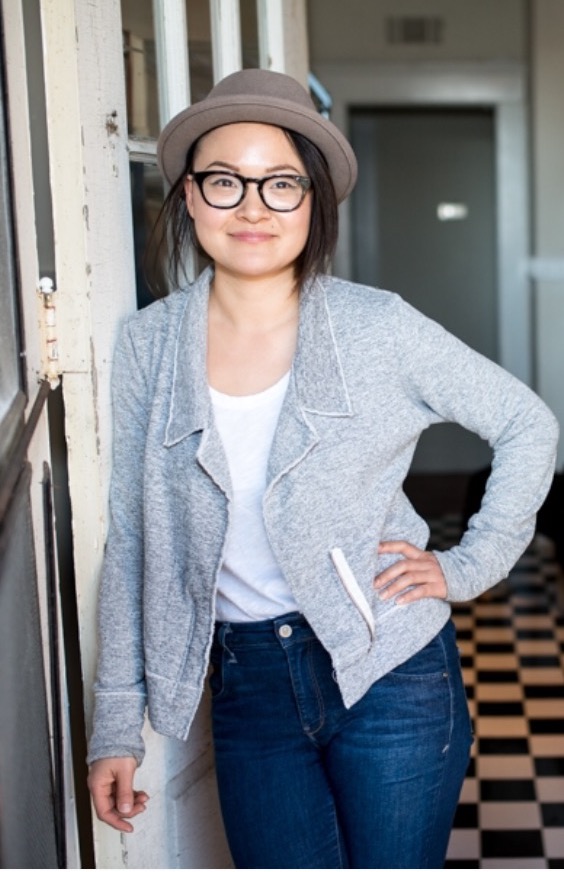 The "outsider"
Born in San Jose, California, Chung describes herself as a military brat. Her family moved constantly, living in a dozen different places in the United States and abroad.
But she says that as a kid the United States was less tolerant of diversity and so she found herself struggling to fit in as one of only a few Asians.
"This was in the 80's and being Korean American was not cool," she said. "I was teased a lot. Some people threw garbage in our driveway, and our house got vandalized many times."
Before she turned 18, not knowing exactly what career she wanted to pursue, she joined the U.S. Marine Corp. It gave her the chance to live in 20 cities and see the world.
But it was in 2009, when Chung relocated to Atlanta, Georgia, that her childhood memories of her mother making kimchi encouraged her to pursue a culinary career.
She took the advice of her friends, who told her "not to waste money in a culinary school." Instead, she got an internship at Bacchanalia, a top-rated restaurant in Atlanta. 
There, she peeled and cut onions for free.
"I remember, with no experience at all, I was asked to help make a $100 meal," she says. "I was asked to get the quinoa from the freezer. I didn't know what a quinoa was, so I went in the closet and googled it."

Kimchi and southern pickles

At first, Chung says she was concerned that her kimchi wouldn't suit the palate of people in Georgia and neighboring states. But she later found her concerns were misplaced. 
"People here love chow-chow [a favorite southern relish], and it's absolutely similar to kimchi," she notes. "Everyone loves pickles here."

Chung acknowledges there's still a lot of ignorance when it comes to the Asian American community but things are improving. "Sometimes, I still get the question whether I am Chinese, Japanese, or whether I am from South Korea or North Korea," she says. "But I'm very happy and so well received here." 
She believes the opportunities are ripe for Korean cuisine to expand in the region, just as the Korean population continues to grow. Georgia is home to more than 60,000 Koreans, according to the 2010 Census, an 86 percent increase from 10 years earlier. 
In the near future, she plans to introduce Korean fried chicken and establish a fine dining, sit-down Korean restaurant. 
"I'm realistic," she adds, "but I'm also a big dreamer."


Author's Note: This story was originally published in New America Media on October 19, 2016. A version of the article in Korean appeared in The Korea Daily.
[Update: In December 2017, Hannah Chung, owner of Simply Seoul at Ponce City Market, announced on her Facebook page the closure of her restaurant, according to The Atlanta Journal Constitution. Chung, who opened Simply Seoul in 2013, had moved to Vancouver, Canada. But Tim Song, owner of Korean restaurant Gaja in East Atlanta Village, has taken over her kimchi business.]

Photo Credit: Hannah Chung and Tim Song